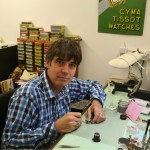 Geoff Allnutt is an inspired and committed watchmaker who specialises in the sale of antique, vintage and modern jewellery  and watches  together with individual gifts in his Midhurst shop.
Geoff started his career working alongside his father, John Allnutt when he was 14.  At 16 he left Midhurst in West Sussex and studied horology in London for three years at Hackney technical college passing the final grade of the British Horological Institute exams with merit in 1985.  He then embarked on the famous WOSTEP (Watchmakers of Switzerland Training and Education Program) course in Neuchatel, Switzerland studying under master watchmaker,  Antoine Simonin.
His sister, Vanessa Allnutt joined the business in 1992 and Robert East, shop manager in 2007;  together with all other members of their highly professional staff create the distinctive and unique atmosphere for which they are renowned.
Geoff is constantly searching via jewellery trade fairs and recommendations for unique and unusual pieces that reflect his individuality but also enhances the other jewellery within his shop.
A warm welcome is always ensured when you visit the shop in person or contact J E Allnutts by telephone.
We hope you enjoy browsing our catalogue and if you would like to meet the team of highly professional watch and clock makers, visit our Watch and Clock repairs page.